Do I want to buy it?                                
Thinking of purchasing a book but not sure whether it's going to be worth the purchase price? Check here first to see if it's been reviewed in Australian Archaeology!  All of the book reviews from recent volumes, listed alphabetically by book title, compiled in one place to make it easy for you to find what you're looking for.
A B C D E F G H I J K L M N O P Q R S T U V W X Y Z
Abandonments of Settlements and Regions: Ethnoarchaeological and Archaeological Approaches edited by C.M. Cameron and S.A. Tomka (reviewed by Peter Veth).
Aboriginal Economy and Society: Australia at the Threshold of Colonisation by Ian Keen (reviewed by Peter Veth).
A Companion to Archaeology edited by John Bintliff (reviewed by Bruno David).
A Companion to Rock Art edited by Jo McDonald and Peter Veth (reviewed by Ken Mulvaney).
A Companion to Social Archaeology edited by Lynn Meskell and Robert W. Preucel (reviewed by Alistair Paterson).
A Critical Exploration of Frameworks for Assessing the Significance of New Zealand's Historic Heritageby Sara Donaghey (reviewed by Jane Lennon).
Adventures in Fugawiland: A Computer Simulation in Archaeology, Second Edition by T. Douglas Price and Anne Birgette Gebauer (reviewed by Katrina MacDonald).
Aesthetics and Rock Art III Symposium: Proceedings of the XV USIPP World Congress edited by Thomas Heyd and John Clegg (reviewed by June Ross).
A Fearsome Heritage: Diverse Legacies of the Cold War edited by John Schofield and Wayne Cocroft (reviewed by Iain Stuart).
African Civilisations – Pre-Colonial Cities and States in Tropical Africa: An Archaeological Perspectiveby Graham Coonah (reviewed by Zoe Wakelin-King).
After Caption Cook: The Archaeology of the Recent Indigenous Past in Australia edited by Rodney Harrison and Christine Williamson (reviewed by Judy Birmingham).
After Modernity: Archaeological Approaches to the Contemporary Past by Rodney Harrison and John Schofield (reviewed by Alice Gorman).
Altered Ecologies: Fire, Climate and Human Influence on Terrestrial Landscapes edited by Simon Haberle, Janelle Stevenson and Matthew Prebble (reviewed by Bruno David).
Altered States: Material Cultural Transformations in the Arafura Region edited by Clayton Fredericksen and Ian Walters (reviewed by Christopher Chippindale).
American Beginnings: The Prehistory and Palaeoecology of Beringia edited by Frederick Hadleigh West (reviewed by Rob Gargett).
A Millenium of Culture Contact by Alistair Paterson (reviewed by Angela Middleton).
An Analysis of Ice Age Art. It's Psychology and Belief System by Noel W. Smith (reviewed by Robert Bednarik).
An Annotated Bibliography of Theses in Aboriginal Torres Strait Islander Studies at The University of Queensland, 1948–2000 by Sean Ulm, Anna Schnukal and Catherine Westcott (reviewed by Annie Ross).
Ancestors for the Pigs: Taxonomy and Phylogeny of the Genus Sus by Colin Groves (reviewed by Tim Flannery).
An Archaeology of Australian Since 1788 by Susan Lawrence and Peter Davies (reviewed by Iain Stuart).
An Archaeology of Institutional Confinement. The Hyde Park Barracks, 1848-1886 by Peter Davies, Penny Crook and Tim Murray (reviewed by Susan Piddock).
An Introduction to Landscape by Peter J. Howard (reviewed by Tom Kimber).
A Pacific Odyssey: Archaeology and Anthropology in the Western Pacific. Papers in Honour of Jim Specht edited by Val Attenbrow and Richard Fullagar (reviewed by Alison Crowther).
A Pictoral Guide to Identifying Australian Architecture by R. Apperly, R. Irving and P. Reynolds (reviewed by Susan Lawrence Cheney).
Archaeological Dimensions of World Heritage: From Prevention to Social Implications edited by Alicia Castillo (reviewed by Ian Lilley).
Archaeological Investigation by Martin Carver (reviewed by David Frankel).
Archaeological Typology and Practical Reality: A Dialectical Approach to Artifact Classification and Sorting by W.Y. Adams and E.W. Adams (reviewed by Glenn R. Summerhayes).
Archaeology and Colonialism: Cultural Contact from 5000 BC to the Present by Chris Godsen (reviewed by Rodney Harrison).
Archaeology and Linguistics: Aboriginal Australia in Global Perspective edited by P. McConvell and N. Evans (reviewed by Ian Lilley).
Archaeology as Long-Term History edited by Ian Hodder (reviewed by Matthew Spriggs).
Archaeology of the Chinese Fishing Industry in Colonial Victoria by Alister M. Bowen (reviewed by Neville Ritchie).
Archaeology of the Coastal Exchange System: Sites and Ceramics of the Papuan Gulf edited by David Frankel and James W. Rhodes (reviewed by J. Peter White).
Archaeological Theory and the Politics of Cultural Heritage by Laurajane Smith (reviewed by Thomas F. King).
Archaeological Theory in Practice by Patricia Urban and Edward Schortmann (reviewed by Martin Porr).
Archaeological Theory: Who Sets the Agenda? edited by Norman Yoffee and Andrew Sherratt (reviewed by Laurajane Smith).
Archaeologies of Memory edited by Ruth M. van Dyke and Susan E. Alcock (reviewed by Rodney Harrison)
Archaeologies of Mobility and Movement edited by Mary C. Beaudry and Travis G. Parno (reviewed by Thomas G. Whitley).
Archaeology and the Media edited by Timothy Clark and Marcus Brittain (reviewed by Hilary du Cros).
Archaeology in Practice: A Student Guide to Archaeological Analyses edited by Jane Balme and Alistair Paterson (reviewed by Annie Ross).
Archaeology of Ancient Australia by Peter Hiscock (reviewed by Brian Fagan).
Archaeology of Asia edited by Miriam T. Stark (reviewed by Bill Boyd).
Archaeology of Oceania: Australia and the Pacific Islands edited by Ian Lilley (reviewed by Richard Fullagar).
Archaeology to Delight and Instruct: Active Learning in the University Classroom edited by Heather Burke and Claire Smith (reviewed by Martin Gibbs).
Arrernte Present, Arrernte Past: Invasion, Violence and Imagination in Indigenous Central Australia by Diane Austin-Broos (reviewed by John White).
Art and Archaeology: Collaborations, Conversations, Criticisms edited by Ian Alden Russell and Andrew Cochrane (reviewed by June Ross).
Artefact Classification: A Conceptual and Methodological Approach by Dwight W. Reed (reviewed by David Frankel).
At a Crossroads: Archaeology and First Peoples in Canada edited by George P. Nicholas and Thomas D. Andrews (reviewed by Paul S.C. Tacon)
Australia's Fossil Heritage: A Catalogue of Important Australian Fossil Sites by the Australian Heritage Council (reviewed by Judith Field).
Australia and the Origins of Agriculture by Rupert Gerritsen (reviewed by Harry Lourandos).
Australian Apocalypse: The Story of Australia's Greatest Cultural Monument by Robert G. Bednarik (reviewed by Paul Tacon).
Australian Archaeology '95: Proceedings of the 1995 Australian Archaeological Association Annual Conference edited by Sean Ulm, Ian Lilley and Annie Ross (reviewed by Peter Veth).
Australian Rock Art: A New Synthesis by Robert Layton (reviewed by Claire Smith).
Australia's Eastern Regional Sequence Revisited: Technology and Change at Capertee 3 by Peter Hiscock and Val Attenbrow (reviewed by Chris Clarkson).
Between Plateau and Plain by June Anderson (reviewed by Madge Schwede).
Beyond Art: Pleistocene Image and Symbol edited by Margaret W. Conkey, Olga Soffer, Deborah Stratmann and Nina G. Jablonski (reviewed by Linda Conroy).
Blue Mountain Dreaming: The Aboriginal Heritage by Eugene Stockton (reviewed by Val Attenbrow).
Bodies in the Bog and the Archaeological Imagination by Karin Sanders (reviewed by Miranda Aldhouse-Green).
Box Office Archaeology: Refining Hollywood's Portrayals of the Past edited by Julie M. Schablitsky (reviewed by Peter Hiscock).
Bradshaws: Ancient Paintings of North-West Australia by Graeme L. Walshe (reviewed by Mike Morwood).
Bridging the Divide: Indigenous Communities and Archaeology into the 21st Century edited by Caroline Phillips and Harry Allen (reviewed by Chris Wilson).
Bruising the Red Earth: Ochre Mining and Ritual in Aboriginal Tasmania edited by Antonio Sagona (reviewed by Bruno David).
Burning Bush. A Fire History of Australia by Stephen J. Pyne (reviewed by Lesley Head).
Bushfires and Bushtucker: Aboriginal Plant Use in Central Australia by Peter Latz (reviewed by Wendy Beck).
Catalogue of the Roth Collection and Aboriginal Artefacts from North Queensland by Kate Khan (reviewed by Paul Gorecki).
Cave Art: A Guide to the Decorated Ice Age Caves of Europe by Paul Bahn (reviewed by Iain Davidson).
Climate Change: The Science, Impacts and Solutions by A. Barrie Pittock (reviewed by Mike Rowland).
Coastal Themes: An Archaeology of the Southern Curtis Coast, Queensland by Sean Ulm (reviewed by Bryce Barker).
Colouring the Past: The Significance of Colour in Archaeological Research edited by Andrew Jones and Gavin MacGregor (reviewed by Noelene Cole).
Conserving Australian Rock Art: A Manual for Site Managers by David Lampert (reviewed by Christopher Chippendale).
Constructing Frames of Reference: An Analytical Method for Archaeological Theory Building using Ethnographic and Environmental Data Sets by Lewis R. Binford. (reviewed by F. Donald Pate).
Consultation and Cultural Heritage: Let us Reason Together by Claudia Nissley and Thomas F. King (reviewed by Lynley A. Wallis).
Contemporary Archaeology in Theory: A Reader by R.W. Preucel and Ian Hodder (reviewed by Bryce Barker).
Continent of Hunter-Gatherers: New Perspectives in Australian Prehistory by Harry Lourandos (reviewed by Ian McNiven).
Conversations with Landscape edited by Karl Benediktsson and Katrin Anna Lund (reviewed by Harry Lourandos).
Coobool Creek: A Morphological Analysis of the Crania, Mandibles and Dentition of a Prehistoric Australian Human Population by Peter Brown (reviewed by Phillip J. Habgood).
Cultural Heritage, Ethics and the Military edited by Peter G. Stone (reviewed by Umberto Albarella).
Cycles of the Sun, Mysteries of the Moon: The Calender in Mesoamerican Civilization by Vincent H. Malmstrom (reviewed by Gabrielle Vail).
Desert Peoples: Archaeological Perspectives edited by Peter Veth, Mike Smith and Peter Hiscock (reviewed by Mike Basgall).
Digging it up Down Under: A Practical Guide to Doing Archaeology in Australia by Claire Smith and Heather Burke (reviewed by George Nicholas).
Digging up a Past by John Mulvaney (reviewed by Bruno David).
Dingo Makes Us Human by Deborah Bird Rose (reviewed by Peter Thorley).
Dirty Diggers: Tales from the Archaeological Trenches by Paul Bahn (reviewed by Duncan Wright).
Documentary Archaeology in the New World edited by Mary V. Beaudry (reviewed by Tim Murray).
Documental Filmmaking for Archaeologists by Peter Pepe and Joseph W. Zarzynski (reviewed by Karen Martin-Stone).
Doing Archaeology: A Cultural Resource Management Perspective by Thomas F. King (reviewed by John L. Craib).
East of Wallace's Line: Studies of Past and Present Maritime Cultures of the Indo-Pacific Region edited by Sue O'Connor and Peter Veth (reviewed by Sandra Bowdler).
East of Wallace's Line: Studies of Past and Present Maritime Cultures of the Indo-Pacific Region edited by Sue O'Connor and Peter Veth (reviewed by Martin Williams).
Encyclopaedia of Aboriginal Australia: Aboriginal and Torres Strait Islander history, society and cultureedited by D. Horton (reviewed by Sharon Wellfare).
Entangled: An Archaeology of the Relationships between Humans and Things by Ian Hodder (reviewed by Martin Porr).
Environmental Archaeology: Principals and Practice by Dena Dincauze (reviewed by Tim Owen).
Excavations, Surveys and Heritage Management in Victoria, Volume 1 edited by Ilya Berelov, Mark Eccleston and David Frankel (reviewed by Pamela Ricardi).
Exhuming Loss: Memory, Materiality and Mass Graves of the Spanish Civil War by Layla Renshaw (reviewed by Jon Prangnell).
Explorations into Highland New Guinea, 1930-1935 by Michael J. Leahy (reviewed by J. Peter White).
Exploring Central Australia: Society, the Environment and the 1984 Horn Expedition by S.R. Morton and D. J. Mulvaney (reviewed by June Ross).
Fantastic Dreaming: The Archaeology of an Aboriginal Mission by Jane Lydon (reviewed by Celmara Pocock).
Faunal Extinction in an Island Society: Pygmy Hippopotamus Hunters of Cyprus by Alan H. Simmons and Associates (reviewed by Mike Smith).
'Fire and Hearth' Forty Years On: Essays in Honour of Sylvia J. Hallam edited by Caroline Bird and Esmee Webb (reviewed by Harry Lourandos).
First Farmers: The Origins of Agricultural Societies by Peter Bellwood (reviewed by Tim Denham).
First Footprints: The Epic Story of the First Australians by Scott Cane (reviewed by Douglas Bird).
First in their Field: Women and Australian Anthropology edited by Julie Marcus (reviewed by Claire Smith).
First Light by Peter Ackroyd (reviewed by Tony Smith).
Flintknapping: Making and Using Stone Tools by John C. Whittaker (reviewed by Katerina McDonald).
Frauds, Myths and Mysteries: Science and Pseudoscience in Archaeology by Kenneth L. Fedden (reviewed by F. Donald Pate).
Gendered Archaeology edited by Jane Balme and Wendy Beck (reviewed by Stephanie Moser).
Geoarchaeology: The Earth-Science Approach to Archaeological Interpretation by G. Rapp Jr and C.L. Hill (reviewed by Rob Gargett).
Gunyah, Goondie and Wurley: The Aboriginal Architecture of Australia by Paul Memmott (reviewed by Cherrie de Leiuen).
Handbook of Forensic Anthropology and Archaeology edited by Soren Blau and Douglas Ubelaker (reviewed by Judith Littleton).
Handbook of Landscape Archaeology edited by Bruno David and Julian Thomas (reviewed by David S. Whitley).
Heritage, Communities and Archaeology by Laurajane Smith and Emma Waterton (reviewed by Amy Roberts).
Heritage: Critical Approaches by Rodney Harrison (reviewed by Keir Reeves).
High Lean Country: Land, People and Memory in New England edited by Alan Atkinson, J.S. Ryan, Iain Davidson and Andrew Piper (reviewed by Sharon Sullivan).
Historical Archaeologies of Cognition: Explorations into Faith, Hope and Charity edited by James Symonds, Anna Badcock and Jeff Oliver (reviewed by Edwina Kay).
Historical Archaeology edited by Martin Hall and Stephen W. Silliman (reviewed by Jon Prangnell).
Historical Archaeology: Why the Past Matters by Barbara J. Little (reviewed by Alasdair Brooks).
Hominid Adaptations and Extinctions by David W. Cameron (reviewed by Sylvia Hallam).
How a Continent Created a Nation by Libby Robin (reviewed by Veronia Strang).
Human Evolution, Language and Mind: A Psychological and Archaeological Enquiry by William Noble and Iain Davidson (reviewed by Howard Morphy).
Hunters and Collectors: The Antiquarian Imagination in Australia by Tom Griffiths (reviewed by Mike Smith).
Hunter-Gatherers in History, Archaeology and Anthropology edited by Alan Barnard (reviewed by Ian McNiven).
Inauthentic Archaeologies: Public Uses and Abuses of the Past by Troy Lovata (reviewed by Denis Gojak).
Indigenous Peoples and the Collaborative Stewardship of Nature: Knowledge Binds and Institutional Conflicts by Anne Ross, Kathleen Pickering Sherman, Jeffrey G. Snodgrass, Henry D. Delacore and Richard Sherman (reviewed by Joe Watkins).
Inscribed Landscapes: Marking and Making Place edited by Bruno David and Meredith Wilson (reviewed by Michael Slack and Richard Fullagar).
Interpreting Ground-Penetrating Radar for Archaeology by Lawrence B. Conyers (reviewed by Ian Moffat).
Introduction to Rock Art Research by David S. Whitley (reviewed by Natalie R. Franklin).
Investigating Olduvai : Archaeology of Human Origins by Jeanne Sept (reviewed by Peter Grave).
Invitation to Archaeology Second Edition by Philip Rahtz (reviewed by Simon Holdaway).
Islamic Art and Archaeology of Palestine by Myriam Rosen-Ayalon (reviewed by Alan Walmsley).
Kakadu: Natural and Cultural Heritage and Management edited by Tony Press, David Lea, Ann Webb and Alistair Graham (reviewed by Sean Ulm).
Landscapes, Rock-Art and the Dreamings: An Archaeology of Pre-Understanding by Bruno David (reviewed by Tim Murray).
Lapita Design Form and Composition: Proceedings of the Lapita Design Workshop Canberra, Australia, December 1988 edited by Matthew Spriggs (reviewed by Jim Specht).
Late Holocene Indigenous Economies of the Tropical Australian Coast: An Archaeological Study of the Darwin Region by Patricia M. Bourke (reviewed by Sandra Bowdler).
Lessons for Human Survival: Nature's Record from the Quaternary edited by Paul Bishop (reviewed by Scott Smithers).
Lithics Down Under: Australian Perspectives on Lithic Reduction, Use and Classification edited by Chris Clarkson and Lara Lamb (reviewed by Ian J. McNiven).
Lithics in the Land of the Lightning Brothers: The Archaeology of Wardaman Country, Northern Territory by Chris Clarkson (reviewed by Richard A. Gould).
Love's Obsession: The Lives and Archaeology of Jim and Eve Stewart by Judy Powell (reviewed by Andrew Sneddon).
Making Archaeology Happen: Design versus Dogma by Martin Carver (reviewed by Tim Murray).
Managing Archaeological Resources: Global Context, National Programs, Local Actions edited by Francis P. McManamon, Andrew Stout and Jodi A. Barnes (reviewed by Thomas F. King).
Many Exchanges: Archaeology, History, Community and the Work of Isabel McBryde edited by Ingereth Macfarlane with Mary-Jane Mountain and Robert Paton (reviewed by Martin Gibbs).
Marine Molluscan Remains from Franchthi Cave by Judith C. Shackleton (reviewed by Moya Smith).
Maritime Archaeology: A Technical Handbook by J. Green (reviewed by Iain Stuart).
Material Culture of the North Wellesley Islands by Paul Memmott (reviewed by Asa Ferrier).
Measured on Stone: Stone Artefact Reduction, Residential Mobility and Aboriginal Land Use in Arid Central Australia by W. Boone Law (reviewed by Michael J. Shott).
Motherland by Timothy O'Grady (reviewed by Tony Smith).
Much More than Stones and Bones: Australian Archaeology in the Late Twentieth Century by Hilary Du Cros (reviewed by Tracey Ireland).
Mungo over Millenia: The Willandra Landscape and its People edited by Helen Lawrence (reviewed by Josephine M. Flood).
Mystery Islands: Discovering the Ancient Pacific by Tom Koppel (reviewed by Matthew Spriggs).
Native Title and the Transformation of Archaeology in the Postcolonial World edited by Ian Lilley (reviewed by Alistair Paterson).
Neolithic by Susan Foster McCarter (reviewed by Phillip C. Edwards).
Ngarrindjeri Wurrawarrin: A World That Is, Was and Will Be by Diane Bell (reviewed by James Knight).
Nomads in Archaeology by Roger Cribb (reviewed by Ron Lampert).
Nonlinear Models for Archaeology and Anthropology: Continuing the Revolution edited by Christopher S. Beekman and William W. Baden (reviewed by Mal Ridges).
North American Archaeology edited by Timothy R. Pauketat and Diana DiPaolo Loren (reviewed by Michael Slack).
Object Lessons: Archaeology and Heritage in Australia edited by Jane Lydon and Tracey Ireland (reviewed by Celmara Pocock).
Oceania Explorations: Lapita and Western Pacific Settlement edited by Stuart Bedford, Christophe Sand and S.P. Connaughton (reviewed by Patrick V. Kirch).
Otoliths of Common Australian Temperate Fish: A Photographic Guide by Dianne Furlani, Rosemary Gales and David Pemberton (reviewed by Marshall Weisler).
'Our People' Series (reviewed by Anne Skates).
Owls, Caves and Fossils: Predation, Preservation and Accumulation of Small Mammal Bones in Caves, with an Analysis of the Pleistocene Cave Faunas from Westbury-Sub-Mendip, Somerset, United Kingdom by Peter J. Andrews (reviewed by David Cameron).
Pacific Production Systems. Approaches to Economic Prehistory edited by D.E. Yen and J.M.J. Mummery (reviewed by J.P White).
Palaeonenvironmental Change and the Persistence of Human Occupation in Southwestern Australian Forests by Joe Dortch (reviewed by Sylvia Hallam).
Palaeopathology of Aboriginal Australians: Health and Disease across a Hunter-Gatherer Continent by Stephen Webb (reviewed by Graham Knuckey and F. Donald Pate).
Patterns of Burning over Archaeological Sites and Landscapes: Prospection and Analysis by Alistair Marshall (reviewed by Kelsey Lowe).
Peopling the Cleland Hills: Aboriginal History in Western Central Australia 1850-1980 by Mike A. Smith (reviewed by Jo McDonald).
Pictures of Time Beneath: Science, Heritage and the Uses of the Deep Past by Kirsty Douglas (reviewed by Josephine M. Flood).
Pieces of the Vanuatu Puzzle: Archaeology of the North, South and Centre by Stuart Bedford (reviewed by Jennifer G. Kahn).
Pinning Down the Past: Archaeology, Heritage and Education Today by Mike Corbishey (reviewed by Craig Baxter).
Pitt Rivers. The Life and Archaeological work of Lieutenant-General Augustus Henry Lane Fox Pitt Rivers, DCL FRS FSA by Mark Bowden (reviewed by Ron Lampert).
Place as Occupational Histories: An Investigation of the Deflated Surface Archaeological Record of Pine Point and Langwell Stations, Western New South Wales, Australia by Justin Shiner (reviewed by Ben Marwick).
Plants in Australian Archaeology edited by Wendy Beck, Annie Clark and Lesley Head (reviewed by Bill Boyd).
Pleistocene Geology, Palaeontology and Archaeology of the Soa Basin, Central Flores, Indonesia edited by F. Aziz, M.J. Morwood and G.D. van den Bergh (reviewed by Jillian Garvey).
Port Essington: The Historical Archaeology of a North Australian Nineteenth Century Military Outpostby Jim Allen (reviewed by Charles E. Orser Jr).
Prehistoric Marine Resource Use in the Indo-Pacific Regions edited by Rintaro Ono, Alex Morrison and David Addison (reviewed by Mirani Litster).
Prehistory and Heritage: The Writings of John Mulvaney by D.J. Mulvaney (reviewed by R.J. Lampert).
Prodigious Birds. Moas and Moa-Hunting in Prehistoric New Zealand by Atholl Anderson (reviewed by Brendan Marshall).
Quantifying Diversity in Archaeology edited by Robert D. Leonard and George T. Jones (reviewed by Colin Pardoe).
Quaternary Environments by M.A.J. Williams, D.L. Dunkerley, P. De Deckker, A.P. Kershaw and T. Stokes (reviewed by F. Donald Pate).
Quaternary Environments (Second Edition) by M.A.J. Williams, D.L. Dunkerley, P. De Deckker, A.P. Kershaw and J. Chappell (reviewed by F. Donald Pate).

Quinkan Prehistory: The Archaeology of Aboriginal Art in S.E. Cape York Peninsula, Australia edited by Michael J. Morwood and Douglas R. Hobbs (reviewed by Bruno David).
Reading Material Culture: Structuralism, Hermeneutics and Post-Structuralism edited by Christopher Tilley (reviewed by Bruno David).
Recent Studies in Australian Palaeoecology and Zooarchaeology: A Volume in Honour of the Late Su Solomon edited by Jillian Garvey and Judith Field (reviewed by Joe Dortch).
Re-Constructing Archaeology: Theory and Practice by Michael Shanks and Christopher Tilley (reviewed by Bruno David).
Records in Stone: Papers in Memory of Alexander Thom edited by C.L.N. Ruggles (reviewed by R.J. Lampert).
Recovering the Tracks: The Story of Australian Archaeology by David Horton (reviewed by Sandra Bowdler).
Remains to be Seen: Archaeological Insights into Australian Prehistory by David Frankel (reviewed by Annie Ross).
Renewing Women's Business: A Documentary by Julie Drew and Wardaman Aboriginal Corporation (reviewed by Sally Babidge).
Returning to Nothing: The Meaning of Lost Places by Peter Read (reviewed by Veronica Strang).
Rock Art and Ethnography: Proceedings of the Ethnography Symposium, Australian Rock Art Research Association Conference, Darwin, 1998 edited by M.J. Morwood and D.R. Hobbs (reviewed by Noelene Cole).
Rock Art and Posterity: Conserving, Managing and Recording Rock Art edited by C. Pearson and B.K. Schwartz (reviewed by Christopher Chippendale).
Rock Art of the Dreamtime: Images of Ancient Australia by Josephine Flood (reviewed by Annie Thomas).
Rock Art of the Kimberley: Proceedings of the Kimberley Society Rock Art Seminar held at the University of Western Australia, Perth, 10 September 2005 edited by Mike Donaldson and Kevin Kenneally (reviewed by Paul S.C. Tacon).
Roonka: Fugitive Traces and Climatic Mischief edited by Keryn Walshe (reviewed by Eleanor Crosby).
Salvage Excavation of Human Skeletal Remains at Ocean and Octavia Streets, Narabeen, Site #45-6-2747 by Jo McDonald Cultural Heritage Management Pty Ltd (reviewed by Judith Littleton).
Salvage Excavation of Six Sites along Caddies, Seconds Ponds, Smalls and Cattals Creeks in the Rouse Hill Development Hill Area by Jo McDonald Cultural Heritage Management Pty Ltd (reviewed by Fiona Hook).
Scribes, Warriors and Kings, the City of Copan and the Ancient Maya by William L. Fash (reviewed by Rene Viel and Jay Hall).
Second Nature: The History and Implications of Australia as Aboriginal Landscape by Lesley Head (reviewed by Harry Allen).
Secrets at Hanging Rock by Alan Watchman (reviewed by Claire St George).
Shamans, Sorcerers and Saints: A Prehistory of Religion by Brian Hayden (reviewed by Bryce Barker).
Shared Landscapes: Archaeologies of Attachment and the Pastoral Industry in New South Wales by Rodney Harrison (reviewed by Lynette Russell).
Sites and Bytes: Recording Aboriginal Places in Australia edited by Josephine Flood, Ian Johnson and Sharon Sullivan (reviewed by Peter Veth).
Social Theory and Archaeology by Michael Shanks and Christopher Tilley (reviewed by Bruno David).
Social Theory and Archaeology by Michael Shanks and Christopher Tilley (reviewed by Chris Godsen).
Structured Worlds: The Archaeology of Hunter-Gatherer Thought and Action edited by Aubrey Cannon (reviewed by Colin Pardoe).
Style, Society and Person: Archaeological and ethnological perspectives edited by Christopher Carr and Jill E. Neitzel (reviewed by Bruno David).
Surface Collection: Archaeological Travels in Southeast Asia by Denis Byrne (reviewed by Sarah Milledge Nelson).
Sustaining Heritage: Giving the Past a Future by Tony Gilmour (reviewed by Richard Mackay).
The Archaeologist's Field Handbook by Heather Burke and Claire Smith (reviewed by Tim Ormsby).
The Archaeologist's Fieldwork Companion by Barbara Ann Kipfer (reviewed by Ian J. McNiven).
The Archaeologist's Manual for Conservation: A Gudie to Non-Toxic, Minimal Intervention Artifact Stabilization by Bradley A. Rodgers (reviewed by Brandy Lockhart).
The Archaeology of Australia's Deserts by Mike Smith (reviewed by Peter Hiscock)
The Archaeology of Contextual Meanings edited by Ian Hodder (reviewed by Matthew Spriggs).
The Archaeology of Difference: Negotiating Cross-Cultural Engagements in Oceania edited by Robin Terrence and Anne Clark (reviewed by Jo McDonald).
The Archaeology of Drylands: Living at the Margin edited by Graeme Barker and David Gilbertson (reviewed by Mike Smith).
The Archaeology of Market Capitalism: A Western Australian Perspective by Gaye Nayton (reviewed by William Lees).
The Archaeology of Montebello Islands, North-West Australia: Late Quaternary Foragers on an Arid Coastline by Peter Veth, Ken Aplin, Lynley A. Wallis, Tiina Manne, Tim Pulsford, Elizabeth White and Alan Chappel (reviewed by Goeff Bailey).
The Archaeology of the Angophora Reserve Rock Shelter by Josephine McDonald (reviewed by Val Attenbrow).
The Archaeology of the Aru Islands, Eastern Indonesia edited by Sue O'Connor, Matthew Spriggs and Peter Veth (reviewed by Daniel Rosendahl).
The Archaeology of the Colonised by Michael Given (reviewed by Rodney Harrison).
The Archaeology of Time by Gavin Lucas (reviewed by Michael Morrison).
The Archaeology of Whaling in Southern Australia and New Zealand by Susan Lawrence and Mark Staniforth (reviewed by Peter Veth).
The Axe had Never Sounded: Place, People and Heritage of Recherche Bay, Tasmania by John Mulvaney (reviewed by Lyndall Ryan).
The Biggest Estate on Earth: How Aborigines Made Australia by Bill Gammage (reviewed by Bruno David).
The Bone Readers: Atoms, Genes and the Politics of Australia's Deep Past by Claudio Tuniz, Richard Gillespie and Cheryl Jones (reviewed by Iain Davidson).
The Bronze Age of Southeast Asia by Charles Higham (reviewed by Robert Theunissen).
The Cainozoic in Australia: A Reappraisal of the Evidence edited by M.A.J. Williams, P. De Deckker and A.P. Kershaw (reviewed by Scott Smithers).
The City in Time and Space by Aidan Southall (reviewed by Jim Walmsley).
The Dark Abyss of Time: Archaeology and Memory by Laurent Olivier (reviewed by Steve Brown).
The Death of Prehistory by Peter Schmidt and Stephen Mrozowski (reviewed by John Giblin).
The Dendroglyphs of 'Carved Trees' of New South Wales  by Robert Etheridge (reviewed by Jeanette Hope.
The Destruction of Cultural Heritage in Iraq edited by Peter Stone and Joanne Farchakh Bajjaly (reviewed by Dan Potts).
The Discovery of the Hobbit: The Scientific Breakthrough that Changed the Face of Human History by Mike Morwood and Penny van Oosterzee (reviewed by Michael Green).
The Discovery of the Past: The Origins of Archaeology by Alain Schnapp (reviewed by Heather Burke).
The Domestication of Europe by Ian Hodder (reviewed by Ron Paul Rainbird).
The Early Prehistory of Fiji edited by Geoffrey Clark and Atholl Anderson (reviewed by Yvonne Marshall).
The Fabrication of Aboriginal History. Volume One, Van Diemen's Land 1803–1847 by Keith Windschuttle (reviewed by Sandra Bowdler).
The Goddess and the Bull: Catalhoyuk: An Archaeological Journey to the Dawn of Civilisation by Michael Balter (reviewed by Andrew Fairbairn).
The History and Archaeology of the Sydney Cove Shipwreck (1797): A Resource for Future Work by Shirley Strachan (reviewed by David Cameron).
The Illusion of Riches: Scale, Resolution and Explanation in Tasmanian Pleistocene Human Behaviourby Richard Cosgrove (reviewed by Judith Field).
The Illustrated History of Humankind edited by Goran Burenhult (reviewed by Jane Balme).
The Incas by Terence N. D'Altroy (reviewed by Dave Bulbeck).
The Languages of Archaeology: Dialogue, Narrative and Writing by Rosemary Joyce  (reviewed by Darren Griffin).
The Lost Legions: Culture Contact in Colonial Australia by Alistair Paterson (reviewed by Nan Rothschild).
The Makers and Making of Indigenous Australian Museum Collections edited by Nicolas Peterson, Lindy Allen and Louise Hamby (reviewed by Michael Westaway).
The Meaning of Water by Veronica Strang (reviewed by Ingereth Macfarlane).
The Naïve Lands: Prehistory and Environmental Change in Australia and the South-West Pacific edited by John Dodson (reviewed by Sandra Bowdler).
The Nature of Heritage: The New South Africa by Lynn Meskell (reviewed by Keir Reeves).
The New Archaeology and Aftermath: A View from Outside the Anglo-American World by K. Paddayya (reviewed by Tessa Corkhill).
The Northern Barbarians 100 BC-AD 300 by Malcolm Todd (reviewed by M. Ruth Megaw).
The Original Australians: Story of the Aboriginal People by Josephine M. Flood (reviewed by J. Peter White).
The Origins and Spread of Domestic Plants in Southwest Asia and Europe edited by Sue Colledge and James Connolly (reviewed by Tim Denham).
The Origins of Hereditary Social Stratification by Malcolm McKay (reviewed by Ian Lilley).
The Origins of War: Violence in Prehistory by Jean Guilaine and Jean Zammit (reviewed by Graham Knuckey).
The Politics of Suffering: Indigenous Australia and the End of the Liberal Consensus by Peter Sutton (reviewed by Luke Godwin).
The Prehistory of the Mind: A Search for the Origins of Art, Religion and Science by Steven Mithen (reviewed by Catherine Mitchell).
The Riches of Ancient Australia by Josephine Flood (reviewed by Wendy Beck).
The Rock Paintings of Arnhem Land, Australia: Social, Ecological and Material Culture Change in the Post-Glacial Period by Darrell Lewis (reviewed by Kim Sales).
The Rock Paintings of Arnhem Land, Australia: Social, Ecological and Material Culture Change in the Post-Glacial Period by Darrell Lewis (reviewed by Natalie Franklin).
The Rocks: Life in Early Sydney by Grace Karskens (reviewed by Jane Lydon).
The Roth Family, Anthropology and Colonial Administration edited by Russell McDougall and Iain Davidson (reviewed by Luke Godwin).
The Science of Human Origins by Claudio Tuniz, Giorgio Manzi and David Caramelli (reviewed by Iain Davidson).
The Shore Whalers of Western Australia: Historical Archaeology of a Maritime Frontier by Martin Gibbs (reviewed by Ian Smith).
The Social Archaeology of Australian Indigenous Societies edited by Bruno David, Bryce Barker and Ian J. McNiven (reviewed by Richard Cosgrove).
The Stone Mirror: A Novel of the Neolithic by Rob Swigart (reviewed by Andy Fairbairn).
The Uses of Style in Archaeology edited by Margaret W. Conkey and Christine A. Hastorf (reviewed by Robert G. Bednarik).
The Willandra Lakes Hominids by S.G. Webb (reviewed by Phillip J. Habgood).
Thinking from Things: Essays in the Philosophy of Archaeology by Alison Wylie (reviewed by Tim Murray).
Time, Energy and Stone Tools by Robin Torrence (reviewed by Dan Witter).
Time to Quarry: The Archaeology of Stone Procurement in Northwestern New South Wales, Australia by Trudy Doelman (reviewed by Justin Shiner).
Tracks, Scats and Other Traces: A Field Guide to Australian Mammals by Barbara Triggs (reviewed by Rob Gargett).
Transitions: Pleistocene to Holocene in Australia and Papua New Guinea edited by Jim Allen and J.F. O'Connell (reviewed by Sandra Bowdler).
Treasures of the Nicholson Museum, The University of Sydney edited by D.T. Potts and K.N. Sowada (reviewed by Vincent Megaw).
23°S: Archaeology and Environmental History of the Southern Deserts edited by Mike Smith and Paul Hesse (reviewed by Peter Thorley).
Uncommon Ground: Cultural Landscapes and Environmental Values by Veronica Strang (reviewed by Wendy Beck).
Uncovering Australia: Archaeology, Indigenous People and the Public by Sarah Colley (reviewed by Ian McNiven).
Understanding Sea-Level Rise and Variability edited by John A. Church, Philip L. Woodworth, Thorkild Aarup and W. Stanley Wilson (reviewed by Mike Rowland).
Uses of Heritage by Laurajane Smith (reviewed by Jane Lennon).
Virtual Archaeology: Re-Creating Ancient Worlds edited by Maurizio Forte and Alberto Siliotti (reviewed by Roland Fletcher).
Visions from the Past: The Archaeology of Australian Aboriginal Art by Mike J. Morwood (reviewed by Meredith Wilson).
Weipa Shell Mounds: Cultural or Natural Deposits? by Geoff Bailey (reviewed by Elizabeth Rich).
Whalers and Free Men: Life on Tasmania's Colonial Whaling Stations by Susan Lawrence (reviewed by Martin Gibbs).
What is an Animal? edited by Tim Ingold (reviewed by Iain Davidson and William Noble).
What is Archaeology? An Essay on the Nature of Archaeological Research by Paul Courbin (translated by Paul Bahn) (reviewed by Allan Lance).
What's Changing: Population Size or Land-Use Patterns? The Archaeology of the Upper Mangrove Creek, Sydney Basin by Val Attenbrow (reviewed by Brit Asmussen).
Women in Archaeology: A Feminist Critique edited by Hilary du Cros and Laurajane Smith (reviewed by Alexy Simmons).
Working with Rock Art: Recording, Presenting and Understanding Rock Art Using Indigenous Knowledge edited by Benjamin Smith, Knut Helskog and David Morris (reviewed by Sven Ouzman).
Writing Archaeology: Telling Stories about the Past by Brian Fagan (reviewed by Karen Murphy).
Post from:
Buang Merabek: Early evidence for human occupation in the Bismarck Archipelago, Papua New Guinea
01-06-2002
Matthew G. Leavesley, Michael I. Bird, Keith L. Fifield, P.A. Hausladen, G.M. Santos and M.L. di Tada
Introduction
This paper reports new radiocarbon estimates for the age of human occupation of Buang Merabak, an archaeological site in central New Ireland, Papua New Guinea (Fig. 1). Previously, the oldest radiocarbon date for human occupation in New Ireland was 35,410±430 BP (Leavesley and Allen 1998:80). The radiocarbon determinations reported here, although preliminary, may extend the first evidence of human occupation in New Ireland to beyond 40,000 BP (uncalibrated) and indirectly support the evidence presented by Groube et al. (1986) and Chappell et al. (1994), for the occupation of the Huon Peninsula at a similar antiquity.
'Shop, 3 Rooms and Sheds': The History and Archaeology of 8 to 12 Divett Street, Port Adelaide
Ashley Matic
BArch(Hons), Department of Archaeology, Flinders University, October 2000
This thesis considers ways in which historical documentation can be used to challenge and complement archaeologically excavated data in order to provide more information on the history of a site and give a greater insight into the activities of those who occupied it. To do this, this thesis presents the results of archaeological investigations at Lot IO Divett Street, Port Adelaide. It analyses an extensive historical documentary search from the available resources in South Australia and the results of the archaeological excavation carried out on the site in October 1999. Results from the two methods are then compared, first, to identify the areas where they correspond or conflict and, second, to show how the use of both together has given a greater understanding of the history of the site.
This thesis demonstrates that the use of  historical documentation in addition to archaeologically excavated data can provide more information on the history of a site, and give a greater insight into the activities of those who occupied it, than the use of either of the methods independently. It also considers whether the Divett Street site could provide the basis of a broader archaeological study of the Port Adelaide district.
Review of 'Altered States: Material Cultural Transformations in the Arafura Region' edited by Clayton Fredericksen and Ian Walters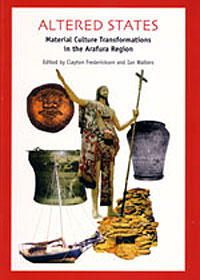 Altered States: Material Cultural Transformations in the Arafura Region edited by Clayton Fredericksen and Ian Walters. NTU Press in association with the Centre for Southeast Asian Studies, Darwin, 2001, xiv+160 pp., ISBN 1 876 24855 6 (pbk).
Chris Chippindale
Altered states is a small and genial book, 174 pages of rather large type, edited from the Northern Territory University in Darwin, and published by its own university press; altogether, seven of its nine contributors are at NTU. After a good start when the University was founded, its commitment to archaeology and anthropology has not been carried through. At the same time, the Territory Museum's concern for the disciplines has weakened, and the ANU has closed its North Australia Research Unit. So Darwin has not grown as a regional research centre, which it could and should have done, given the importance of archaeology and anthropology in the Territory and its being well placed for work in the 'Arafura Region', northern Australia and the island lands to the north across the Arafura Sea. In these fields, Darwin makes a better base than working always from the remote southern cities. The six varied papers in the book show some of what has been done, and underline how much more could be done.
Like many a good edited book, this is a diverse set of studies rather than one tied tightly to a single theme. All are about material culture and its transformations, but treat different aspects rightly, in suitably different ways. The common thread then, is the renewed current interest in material culture, in the 'cultural life of objects' as an emphasis offering useful insights in contemporary affairs and recent history, alongside archaeology's traditional and necessary dependence on the material evidence.
Two papers address contemporary affairs. Forshee and Healey look at monumental statues erected in Indonesia in the Sukarno and Suharto eras. Dwyer reports the changing role of indigenous sailors and their perahu at Ashmore Reef, the group of uninhabited islands between the Kimberley and Timor, Australian territory although closer to Timor. Since 1974, fishers' traditional rights to Ashmore have been restricted and since 1995 refugees have been landing there, so the reef has become a stage in the current theatre of Australia versus would­ be refugees. Then Puig and Walters describe and analyse two fine Asian bronze drums, bought in Thailand for the Northern Territory museum in 1982. Dismally, and as is usual with antiquities which 'surface' without known provenance or history, the research effort can only reconstruct with existing knowledge what might have been the lost archaeological context-rather than learning new knowledge from an actual context reliably reported.
Three papers depend more on archaeological fieldwork. Bjornskov makes a pioneering study of the large stone ovens built in and by Chinese communities across the northern part of the Territory between the 1870s and 1920s, the period of its mining boom and the importing of Chinese labourers. About 50 are known nationally, nearly half in the Territory in the settlements on or near the Stuart Highway between Katherine and the Adelaide River and mostly in Jawoyn country; some of these may have perished between earlier reports of them and the field studies done in 1999.
Bulbeck and Rowley, in the paper most showing traditional archaeological strengths, relate finds of Macassan pottery in Aqstralia to those in Macassar itself and neighbouring parts of Sulawesi. They notice the discrepancy between the 'home' and 'away' patterns, and suggest from the archaeology the 17th century as the earliest inception date for Macassans in northern Australia, a mild discrepancy with the historical record which implies a later date.
Finally, Fredericksen examines transformations in the life­ history of a single 'shako plate', a metal badge with heraldic designs worn on the front of 18th-century British soldiers' uniform caps. This example was excavated at Fort Dundas, the short-lived British fort on Melville Island 1824-1829, by Crosby who reported that its upper extension, probably in the form of a crown, had been broken off. She saw its detachment as marking a ritual defacement, preventing subsequent misuse. As Fredericksen sees it, 'this single, politically-charged act of disfigurement witnessed the symbolic alteration of the shako plate from an object representing community, loyalty and heritage to an object devoid of meaning or value'. So this little metal thing may have 'come to represent one dissenting soldier's opinion of the meaninglessness of garrison duty in the faltering settlement'. One does hope the crown did not disappear through some mundane and chance break of no symbolic intent and is therefore devoid of archaeological meaning or value!
Jiyer Cave revisited: Preliminary results from northeast Queensland rainforest
Richard Cosgrove and Ernie Raymont
The paper presents the initial results of a project that aims to investigate the antiquity of human occupation of Australian tropical rainforests and the role that toxic plants played in the adaptation process. International research suggests that people only permanently occupied rainforests in the last 5000 years with access to agriculture. The fact that Australian rainforest Aborigines were hunter-gatherers using specialised processing
technology to exploit toxic plant foods and living at high population densities suggests a more complex situation. These groups differed significantly from their neighbours in the semi-arid and arid zones who have until recently, provided ethno-archaeological models for explaining past Aboriginal behaviour and the bases for regional archaeology. On the other hand almost nothing is known archaeologically about the adjacent rainforest groups because little work has been undertaken to investigate the temporal and spatial nature of these societies and the affect of changing rainforest ecology over the past 35,000 years. This research begins this process.
Determining the timing and pattern of human colonisation in Australia: Proposals for radiocarbon dating 'early' sequences
Chris S.M. Turney and Michael I. Bird
At present, radiocarbon dating estimates of the age of human occupation of archaeological sites in Australia are virtually all based on single, or comparatively few, radiocarbon dates at the depth associated with the earliest cultural remains. Several new radiocarbon 'calibration' curves for the early occupation period of Australia (>30,000 14C BP), some of which suggest significantly rapid and extreme shifts in apparent radiocarbon age, have become available in recent years. While there are currently major discrepancies between these curves, improvement and regular revision of the 'accepted' calibration curve is a recognised priority within the international radiocarbon community. Thus, the opportunity for more precise interrogation and confident interpretation of the conventional radiocarbon timescale is likely to emerge in the future. In the meantime, we suggest more intensive dating of the critical initial occupation levels of stratigraphic sequences to allow maximum exploitation of any future radiocarbon calibration curve structure (e.g. using 'wiggle­ matching' and/or Bayesian statistics). Such an approach should assist in the future development of a more robust model of the patterning of human colonisation of Australia.
Review of 'Faunal Extinction in an Island Society: Pygmy Hippopotamus Hunters of Cyprus' by Alan H. Simmons and Associates
Mike Smith
F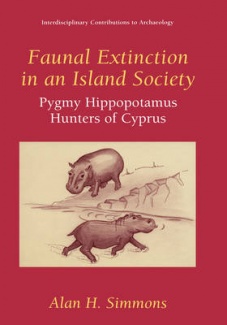 aunal Extinction in an Island Society: Pygmy Hippopotamus Hunters of Cyprus by Alan H. Simmons and Associates. Kluwer Academic/ Plenum Publishers, New York, 1999, xxi+381 pp., ISBN 0 306 46088 2 (hbk).
Akrotiri Aetokremnos ('Vulture Cliff"), the only late Pleistocene archaeological site known from Cyprus – is perched precipitously 40m above the Mediterranean Sea. In best Enid Blyton-style, a small boy was involved in its discovery. In 1961, school-boy David Nixon, the son of a British serviceman on the nearby RAF airbase, was exploring the cliffs around Akrotiri peninsula on the southern coast of Cyprus when he came across an area where chipped stone artefacts and the bones of the extinct Cypriot pygmy hippopotamus (Phanourios minutus) were eroding out. Although Nixon dutifully reported 'Site E' to the Cypriot Department of Antiquities, it did not attract much interest as it lacked ceramics or architectural remains. Incentive officially to investigate Akrotiri Aetokremnos increased when marine shells associated with the deposit returned a radiocarbon date of 11,400 BP, several thousand years earlier than any other known site on Cyprus. One further obstacle had to be overcome before any excavations could take place: the rock shelter is on a British military base and it soon became apparent that only British or American archaeologists would get clearance to dig. In 1987 Alan Simmons took on the job. This beautifully written monograph presents his findings.
Until recently, the conventional picture of Cypriot prehistory began with Neolithic settlement of the island at ~9000 BP. With a date of 11,400 BP, Akrotiri Aetokremnos presented a direct challenge to this chronology. It was also the only site on Cyprus with an apparent association of people and extinct fauna Both issues were controversial and the need to argue the case in detail dominates this monograph. Simmons presents a thorough but conventional site report: background chapters on environmental context and the early prehistory of Cyprus and other Mediterranean islands set the scene. Subsequent chapters describe the site and excavation methods, stratigraphy and sedimentary history, cultural features, chipped stone artefacts, fauna) assemblages, and radiocarbon chronology. The concluding chapters return to the regional context of Akrotiri Aetokremnos and discuss the place of the site in the initial colonisation of Cyprus and extinction of endemic island fauna such as the pygmy hippopotamus.
Questions about the dating of the site were quickly resolved. Simmons obtained 31 conventional radiocarbon and AMS dates on burnt Phanourios bone, bone apatite, bone collagen, charcoal and marine shell. These range in age from ~8-12 ka BP with a weighted average age of 10,500 BP. It appears that the rock shelter was occupied for short periods on at least two separate occasions within a hundred years.
There is no doubt, however, that Akrotiri Aetokremnos is an unusual site. It is a small limestone rock shelter with -35 m2 of floor area, in an unlikely location for human habitation on a narrow terrace above a high sea cliff, some distance from potable water. Much of the deposit consists of a bone bed, containing the disarticulated remains of 500+ of the rotund pig­ sized Phanourios. People do not seem to have been worried by the debris underfoot or to have bothered disposing of bones over the nearby cliff. Simmons argues, rather unconvincingly, that the bone was cached as fuel. Other remains include stone artefacts, hearths and ash layers, burnt bone, eggshell, marine bivalves, limpets, Dentalium shells and the bones of pygmy elephant (Elephas cypriotes), introduced pig, introduced fallow deer, genet, tortoise, and various waterfowl. The lithic assemblage includes blades (characteristic of pre-pottery Neolithic sites in Cyprus) but lacks the ubiquitous ground implements and stone bowls found on PPN sites. At Akrotiri Aetokremnos the most distinctive tools are small thumbnail scrapers, which are not found at other Cypriot sites.
Some specialists remain unconvinced by the association between the cultural remains and the Phanourios bone bed. Sandra Olsen, one of the contributors to this monograph, points out that the bones are lightly abraded as if transported by sedimentary process and she notes there are no cut marks on the bones. This led her to conclude that the cultural remains were superimposed on a natural bone bed, and that some of the Phanourios bone was fortuitously charred by heat from overlying hearths. Simmons and most other contributors to this volume strongly disagree with Olsen: 29% of the bones are burnt, there are several hearths surrounded by burnt Phanourios bone and stone artefacts and marine shells are present in the bone bed. Radiocarbon dates for the Phanourios bone match those on charcoal and shell indicating there is little difference in age between the bone bed and cultural remains. And there seems no natural process that would produce such an accumulation of 500+ hippos in a small cliff-top rock shelter. For instance, the rock shelter does not act as a pit trap and none of the archaeological sediments are slope wash. The Phanourios remains represent a cross-section of age groups within a herd, including juvenile and adult animals, also ruling out interpretation as locus used for calving or as some sort of natural 'graveyard'.
Simmons makes a strong case for an association between human occupation and the bone bed but direct evidence eludes him and this belies the title of the monograph. Readers will find that this volume is not an account of the process of faunal extinction on Mediterranean islands or a detailed study of the hunters, it is an ambit claim for human involvement in the process.
Until the excavation of Akrotiri Aetokremnos most researchers accepted the idea that the earliest settlement of Cyprus was by PPN people beginning ~9000 BP. These people left substantial architectural remains and elaborate walled villages such as Khirokitia Vounoi and Kalavassos Tenta. The Akrotiri Aetokremnos finds raise the possibility of an earlier settlement of the island by hunter-gatherer groups. Simmons argues these people were early PPN or late 'epipalaeolithic' Natufian people from the Levant. It is not clear whether or not this initiated a sustained phase of occupation of the island. On the face of it the Aetokremnos data could reflect episodic exploratory visits by mariners exploiting the herds of dwarf hippos that browsed on the hillsides of Akrotiri peninsula.
Australian archaeologists will find many of the issues in this monograph familiar: controversies over the dating of the earliest sites, the problems of establishing an association between cultural remains and extinct fauna, and models of prehistoric colonisation and extinction of endemic fauna. It is very instructive to watch Simmons and his colleagues work through these issues in the Cypriot context and with finer­ grained data than hunter-gatherer archaeology usually allows. This is a fascinating book that will interest anyone following local debates about extinction of Australian megafauna. Plenum's Interdisciplinary Contributions to Archaeology is an interesting series of monographs, well worth watching.
Review of 'Environmental Archaeology: Principals and Practice, by Dena Dincauze
Tim Owen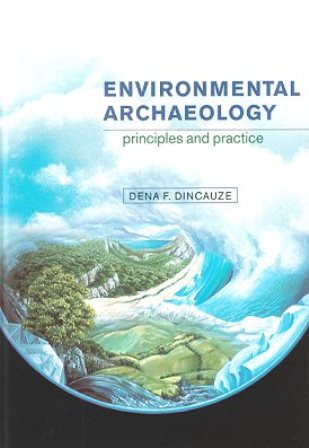 Environmental Archaeology: Principals and Practice by Dena Dincauze. Cambridge University Press, Cambridge, 2000, xxx+587 pp., ISBN 0 521 31077 6 (pbk).
Environmental Archaeology: Principles and Practice delves into the complex world of environmental science, combini.ng this multi-faceted discipline with concepts of human landscape use. The volume has been produced for both archaeology students and professionals. The field of environmental archaeology is immense and Dincauze's volume has managed to explain and intermix details regarding climatic systems (atmosphere, geosphere, hydrosphere, biosphere and cryosphere) whilst providing clear archaeology models.
This work is structured into eight sections each pertaining to the different ways humans adapt to and interact within their environment. The chapters within each section break down the themes into smaller units, providing an introduction, aspects affecting the subject, archaeological techniques and applications and relevant case studies. The book's black and white figures integrate well with the text to contribute to the reader's understanding.
Part 1 of the book introduces the modem applications of environmental archaeology within a theoretical archaeological framework, explaining environmental data collection and applications. Heed is given to the modes and techniques used by modem archaeology when interpreting human cultural patterns. The chapter provides a good introduction to the book, although the theoretical content may be too advanced for early archaeological students.
Part 2, entitled 'Chronology', provides a clear and concise description of time and concepts ofrelative time. The array of methods used currently in archaeology to date deposits, sites and artefacts are explained, with a comprehensible discussion on sampling, and the benefits and limitations of each technique.
Part 3, two chapters and a case study on 'Climate', takes the reader through a detailed explanation of climate and the importance of climate on human decisions regarding subsistence, economy and culture. Explanation of models and isotope use are very clear, and detailed enough for professionals to gain valuable insight into the topics discussed.
Part 4, 'Geomorphology', describes how the earth has been formed. Explanation is provided on several scales, and geological techniques and theories are presented in a format that may be understood and comprehended by non-geologists. A tenable link is established between humans, landscape and archaeological remains.
Part 5, presents two chapters on sedimentology, soil science and archaeological matrices, combined under title 'Sediments and Soils'. Description of how and why sediments are important to archaeologists are combined with theory concerning depositional environments and pedogenesis. The chapter manages to explain a very difficult subject and offers extensive reading lists, whilst generating ideas and presenting issues to the reader on the inter-connectedness of depositional sediments and human behaviour.
Part 6, 'Vegetation', starts by providing a basic biological explanation of taxonomy and the various splits in the plant community. The second chapter explains the required procedures necessary for compilation of a palaeoecological database, detailing data collection, sampling (and sampling errors), cross disciplinary co-operation, potential pit-falls and inherent archaeological biases.
Part 7, entitled 'Fauna', considers how animal and human realms share land space and interact. Information regarding basic archaeozoology is described, as is the recovery of faunal materials, taphonomy and diagenesis, isotope analysis and reconstruction of fauna! environments. The information in this section provides a vast quantity of detail and can only be surpassed by reference to specialist yolumes such as Reitz and Wing (1999) or Lyman (1994).
The final section, 'Integration', explains why a combined archaeological and environmental approach is necessary when attempting to reconstruct past human life. Insistence on the importance of accurate data collection and multi-disciplinary research is expounded. Finally the future of environmental archaeology is discussed and a small case study is presented that has successfully combined environmental sampling and archaeology. The chapter gives a summation of many of the over-riding issues discussed thr-0ughout the preceding seventeen chapters and provides closure on the volume as a whole.
Most of the eight sections listed above include detailed case studies. These case studies are intended as an addition to the preceding text and as such are appropriate. They draw together many of the themes discussed throughout the chapters and present real world applications for theory and data. For the archaeology student the case studies represent actual use of many ideas and topics that may otherwise appear a world apart. For the professional archaeologist the case studies present the information within a tangible framework, and provide a starting platform for additional research into the themes discussed.
However some of the chapters in this volume are highly complex and archaeology students may be left wondering about the applicability of the themes discussed. Additional, possibly smaller, in-text, case studies that present applied archaeological data could rectify this situation and provide access to practical application in the field.
Dincauze's text provides a lot more specialist information than other general introductory archaeological volumes, such as Renfrew and Bahn (1991) or Greene (1995) and fills a void in the current literature. Environmental Archaeology provides an excellent introduction into the fascinating world that recreates past human lives and subsistence patterns, and as such, is highly recommended.
References
Greene, K. 1995 Archaeology: An Introduction. The History. Principles and Methods of Modern Archaeology (3rd ed.). London: B.T. Batsford.
Lyman, R.L. 1994 Vertebrate Taphonomy. Cambridge: Cambridge University Press.
Reitz, E.J. and E.S. Wing 1999 Zooarchaeology. Cambridge: Cambridge University Press.
Renfrew, C. and P. Bahn 1991 Archaeology: Theories, Methods and Practice. London: Thames and Hudson.
About rock markings and rock art: A response to Rosenfeld
Robert G. Bednarik
This debate paper addresses a proposal to exclude from rock art such phenomena as cupules, hand stencils, abraded grooves and finger flutings, and instead to regard them as gestures and call them 'rock markings'. It is argued that this term has already been taken, being the generic name of all forms of markings on rock, that the proposed division is not testable and that it is impractical. The proposal also derives no support from empirical evidence and ethnographic perspectives.
Review of 'The Archaeology of Difference: Negotiating Cross-Cultural Engagements in Oceania' edited by Robin Terrence and Anne Clark
Jo McDonald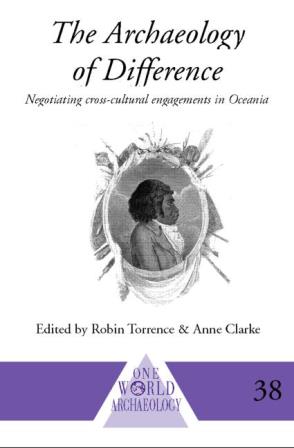 The Archaeology of Difference: Negotiating Cross-Cultural Engagements in Oceania edited by Robin Terrence and Anne Clark. One World Archaeology 38. Routledge, London, 2000. i-xviii, 418 pp., ISBN 0 415 11766 6 (hbk).
The One World Archaeology Series is 'dedicated to exploring new themes, theories and applications in archaeology from around the world' (Hall, Stone and Thomas). This book is true to this aim, although its long gestation period [publication in 2000 following an initial Australian Archaeology Association conference session (in 1992) and a session at the World Archaeology Conference 3 (WAC 3) in New Delhi (in 1994)] means that the 'newness' of some of the themes could be challenged. However, these papers do provide fresh perspectives on the culture contact period, in the recent past, a subject which has been woefully underrepresented in previous Australian publications.
While the book is described as Oceanic in application the focus is biased towards Australian studies. Eight of the chapters deal with Australian locations covering a broad geographic spread from the Top End through the centre to the Murray River in South Australia to Sydney and the NSW South Coast. Internationally, there is one paper each from Chuuk, Papua New Guinea, New Caledonia and New Zealand. There are multiple encounter agencies across the twelve case studies encompassing explorers, missionaries, pastoralists, traders: colonisers and Macassans. The multiple political outcomes that represent the current end product of colonialism across Oceania highlight human universals in a range of political and social systems functioning in very different environments.
Chapter 1 provides an extensive critique by Torrence and Clark of the issues and theorising of the processes of culture contact, encounter and engagement, teasing out the theoretical implications and the ramifications of the collection. An important aspect to emerge from the papers is that the social, political and economic trajectories initiated by the various forms of contact/encounter/settlement continue to the present. This point is of particular relevance to the spate of archaeological studies currently being spawned by Native Title deliberations, where 'continuity of tradition' is one of the legal tests for native title rights.
Many of these papers deal with the use of ethnohistoric and historic data in archaeological studies of encounter. More than a few find this data lacking (eg. Sand in New Caledonia, Chapter 3), or that there is a significant disjunction between archaeological and non-archaeological evidence. So often the patterns identified soon after contact result from irreparable changes wrought in the various societies by that contact (e.g. by introduced disease), making initial observations fraught with social change and demographic flux. In New Zealand, Phillips (Chapter 4) finds that the combination of 'complementary, contrasting and sometimes contradictory' evidence enabled a more sophisticated interpretation of the early contact period.
These studies deal with the archaeology of the recent past, and many wrestle with the difficulties of theorising this short time period. Certainly most archaeologists, by which I probably mean prehistorians, deal with patterns of change over much larger time periods to the extent that the scale of endeavour is rarely that of the social group, let alone of the individual. Because the time scales involved are more immediate, at most, the last 500 years, the processes are almost tangible. As pointed out by Torrence and Clarke (Chapter 1), these papers form a new set of approaches partly because they are situated in the historic time period but have evolved largely from a prehistoric perspective.
The fact that a number of the studies cross the usual boundary between historic and prehistoric archaeology demonstrates changes in the practice of academic archaeology, much of this driven by changes in attitude to cultural heritage management with increased power of government agencies and Aboriginal communities in the direction of research projects (see Colley, chapter 10). Such changes demonstrate a broader trend in Australian society, viz. that such approaches are being legislated.
The role that indigenous players have in the processes of encounter/contact affects how the outcomes are interpreted. A number of the studies here show that historical data can be reinterpreted when the processes of a negotiated outcome are considered (Frederick, Chapter 11; Torrence, Chapter 5). Frederick's paper very persuasively demonstrates how the restructuring of the graphic system relates to changes in the social landscape at contact and that this was a determining process in the brokering of new outcomes. Torrence's study, which focuses on the production (rather than the consumption) of trade goods over a longer period of time, also demonstrates the active role that Admiralty Island spear makers took in facilitating on-going trade relationships. Birmingham's analysis of Killalpaninna Mission (Chapter 13) reassesses the relevance of dominance-resistance theory and demonstrates that negotiation between Lutheran and indigenous parties was fundamental to every aspect of social interaction.
Several studies reveal how the direction of research is altered fundamentally when the interests of the indigenous community are considered. Clarke's work on Groote Eylandt (Chapter 6) was originally designed as a traditional exploratory project in an archaeologically unknown region, yet transformed into the archaeology of cross-cultural encounter following community input. As well as identifying how difficult short-term culture changes might be to identify in the archaeological record Clarke's work stresses the ongoing nature of cross-cultural encounter. In their study of the Swan Reach site, Hemming et al. (Chapter 12) reveal how archaeology can be used to assist in the interpretation of oral history, archival research and anthropological information resulting in a mutually beneficial outcome to both Aboriginal community and archaeological researcher.
Both Mitchell (Chapter 7) and McBryde (Chapter 9) view exchange as a social mechanism which fulfills broader social agendas than first seems apparent. The movement of foreign items of material culture is seen as not necessarily related to the (apparently) "mundane" nature of the items in question. The use of exotic exchange items, in this case guns, to mediate disputes is demonstrated in the Coburg region (Mitchell), while McBryde establishes that the bartering which took place in the Sydney region at first contact could be seen as equally beneficial for both sides in terms of ongoing social and political relationships.
The paper by Bird Rose (Chapter 8) is somewhat outside the mould of the other case studies in that it does not depend on archaeological evidence, but rather deconstructs anthropological evidence and Jesuit diaries. It is an evocative portrayal of cosmological collision between the two cultures. Rainbird's study of Chuuk Lagoon (Chapter 2) reveals how continuing processes of encounter and culture collision, can be revealed in the archaeological record.
I enjoyed this book and found it thought-provoking and useful. In the Native Title era, where applied archaeology is being asked to provide evidence about the 'the transformative and recursive relationship between indigenous peoples and outsiders' (p. 28), this set of papers provides the readers with a focussed set of issues and archaeological resolutions.
The test of an evolving theoretic construct in archaeology is that new approaches become practice and novel approaches become the norm. Several of the papers engage quite comfortably with Indigenous narratives of time, land and history. Such an archaeological approach, even in the not so distant past, when the quest for the earliest and deepest evidence prevailed, has not always been routine. It is becoming so, however, in a slow-moving paradigm shift within the discipline. The mandated involvement of local indigenous communities in the conduct of research also provides a regional innovation in method "and theory. Practice does eventually make theory in contemporary archaeology.
This book provides an informed and stimulating set of papers. It is well edited and well produced with very few typographical errors. At $237.60, most students will probably find it a luxury but to practitioners it should be considered a vital additional to the reference collection.
Wave action impact on archaeological sites in a freshwater reservoir: The case of Lake Hume, New South Wales
Charmaine O'Halloran and Dirk H.R. Spennemann
Wave action has an impact on archaeological sites found on the bottomlands of freshwater reservoirs. A case study was carried out at the historic township of Old Bowna, normally contained within Lake Hume on the New South Wales and Victorian border. While both European and Aboriginal sites have been identified, particular attention is paid to the Aboriginal sites due to their micro-location within the reservoir.
The article details the types of waves that can be found in inland reservoirs, and their specific impacts on archaeological sites on the bottomlands. Additional environmental factors impacting sites are also addressed, such as water-level fluctuation, location of sites within the reservoir, the (re-)fill rate of the dam, the angle of the basin slope and stability of sites according to the presence of vegetation. The paper concludes with a discussion of conservation tools for such environments, together with the moral and legal obligations of heritage managers and conservationists.
Preliminary underwater survey for rock engravings and other sea floor sites in the Dampier Archipelago, Pilbara region, Western Australia
Charles E. Dortch
Preliminary underwater survey for prehistoric sites in the Dampier Archipelago in the Pilbara region of Western Australia had the particular aim of assessing the possibility of finding engravings (petroglyphs) on granophyre rocks outcropping on the sea floor. The numerous engraving galleries occurring among granophyre rocks on the mainland and in the archipelago's islands include deeply weathered petroglyphs that may be of great age, suggesting that the galleries could in part pre-date sea level rise to present height. Survey at seven dive stations on granophyre rocks at depths 10-20 m below surface failed to reveal any engravings, though did confirm that some rock faces are free of marine growth. The investigative potential of underwater survey for submerged Aboriginal sites in the archipelago seems limited to petroglyphs, rock faces flaked in quarrying and perhaps indurated occupation deposits. Surge, storms, sedimentary infilling and marine conditions generally have probably obliterated or buried other kinds of sites. An economical shore-based approach is recommended for further survey.
Pleistocene Timor: Further corrections, A reply to Bednarik
Sue O'Connor
This paper revisits a number of topics raised by Bednarik in his paper 'Pleistocene Timor: some corrections' and questions the validity of some of the claims he makes concerning the Pleistocene archaeology of East Timor. These claims are examined within the context of work undertaken by Ian Glover in the 1960s and more recent work carried out over the past few years by the East Timor Archaeological Project (by the author, Matthew Spriggs and Peter Veth). Some of Bednarik's assessments for a Pleistocene age for stone artefacts are shown to rest on redundant and inappropriate typological classifications where the geoarchaeological context of the finds clearly shows that they were deposited in the Holocene.
Last recorded evidence for megafauna at Wet Cave, Naracoorte, South Australia 45,000 years ago
F. Donald Pate, Matthew C. McDowell, Rod T. Wells and Andrew M. Smith
Introduction
Over 85 percent of Australian terrestrial vertebrate genera with a body mass greater than 44 kg became extinct during the late Pleistocene. These included all marsupials exceeding 100 kg (19 species) and 22 of the 38 species between 10 and 100 kg. Dwarfing occurred in many other species (Flannery 1990; Miller et al. 1999). The larger of these extinct animals have been categorised as megafauna.
Roberts et al. (2001) provide chronometric evidence for a continent-wide extinction of these megafauna at about 46,000 years ago. Others argue for regional variability in the timing of Australian megafaunal extinctions and the survival of some species to much later periods, e.g. Genyornis newtoni, Diprotodon sp. and Sthenurus sp. present from 36-27 ka BP at Cuddie Springs in northwestern New South Wales (Field and Dodson 1999; Horton 2000; Wroe and Field 2001).
The Aboriginal Bark Mortuary Practice of the Central Queensland Highlands
Penny McCardle
BA(Hons), Department of Archaeology and Palaeoanthropology, School of Human and Environmental Studies, University of New England, October 2001
Previous researchers studying the Australian Aboriginal bark burial mortuary practice unique to the central Queensland highlands maintain that these specific burial  rites  were reserved for young men who died an un-natural death and children only. Furthermore, it has been assumed that this practice was a recent phenomenon  derived from European influences.
However, archaeological and anthropological researchers have  based  their  assumptions on  limited  ethnographical sources, most of which derive from the southwestern areas of the central Queensland highlands during the post-contact period. In addition, the archaeological literature also relies on methods of age and sex identification that are unclear. The assumptions that age and sex were social distinctions at death in Aboriginal populations throughout the central Queensland highlands have never been adequately tested. In addition to this, the issues of antiquity and its obvious implications for management strategies, issues of cultural continuity, and cultural transition for the mortuary practice, have never been adequately explored.
This thesis is concerned with age and sex as possible social distinctions at death in the central Queensland bark burial mortuary practice. Through employing proven ageing and sexing techniques on a sample of human remains from previously opened bark coffins, this thesis identifies who was included within this unique and elaborate mortuary practice.
It is demonstrated that the bark burial mortuary practice was not reserved exclusively for young men and children; all age groups and both sexes were included. Furthermore, although the inclusion of people in the mortuary practice was not based on age or gender, other basic social divisions within the mortuary practice exist. It was found that some individuals were deliberately isolated and placed for final internment alone, while others were placed together in multiple burials. It is argued that the inclusion of individuals in single and multiple burials was based on basic social/cultural divisions.
In addition to this, this thesis also examines the age of bark coffins and the associated mortuary practice. Previous archaeological investigations throughout the  region  suggest that the mortuary practice may extend back to 4000 BP. A relative dating technique, that examined differences in cut marks made on bark between stone, trade and steel axes was developed. The results show clear differences in cut  marks made on bark at both a macro level (naked eye and magnifying glass) and a micro level (SEM). The method was applied to a sample of bark coffins to determine if they were pre- or post­ contact in age. In addition, in conjunction with  the  Bowen Basin Aboriginal Cultural Heritage Project's dating program, samples of the bark from crypt floors were also AMS dated as part of the Bowen Basin Aboriginal  Cultural Heritage Project.
The AMS dates obtained from crypts support the relative dating evidence. The method  of determining a relative age (pre- or post -contact) of cultural materials made of bark of through cut marks made on the bark is found to be a reliable method that is easily applied in the field with no disturbance to cultural materials. It can be concluded that the bark burial mortuary practice has a long and continuous history that extends back at least 850 BP, possibly 4000 BP, and although modified by European influences, this mortuary tradition is still being practised today.
Review of 'Native Title and the Transformation of Archaeology in the Postcolonial World' edited by Ian Lilley
Alistair Paterson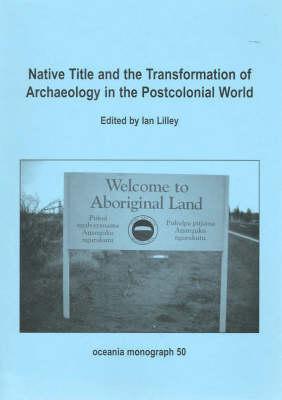 Native Title and the Transformation of Archaeology in the Postcolonial World edited by Ian Lilley. Oceania Monograph 50, University of Sydney, Sydney, 2000, 180 pp., ISBN 1 864 87 281 0 (hbk).
The thirteen papers in Native Title and the Transformation of Archaeology in the Postcolonial World constitute a timely and thought provoking volume on the role of archaeology in contemporary sociopolitical contexts by focusing on land rights determinations. This collection's origins lay in the symposium on Archaeology and Indigenous Land Rights in Settler Societies at the 1999 World Archaeological Congre s in Cape Town, South Africa. The book succeeds in its aim to present 'a panoramic snapshot of the ways the future of the discipline is being shaped by rapidly-evolving indigenous land-rights movements in … post-colonial societies' (Lilley 2000:1). The (then) recent Australian Miriuwung-Gajerrong and Yorta Yorta Native Title claim decisions (one positive, one negative) are raised by nearly all of the Australian contributors (Lilley, Fullagar and Head, Harrison, McDonald, Murray, and Veth) who view the legal judgements, particularly the Miriuwung-Gajerrong decision, as indicating shifts in the practice and application of archaeology.
This review follows the volume's organization. Part A includes papers related to Australia, Part B includes papers discussing Canada (Klimko and Wright; Nicholas), New Caledonia (Sand), Micronesia (Rainbird) and South Africa (Prins).
In Part A, Bradshaw's paper describes Hammersley Iron's Heritage Program, providing an interesting case-study into one mining venture's perspective on working with Aboriginal communities and Aboriginal heritage in the context of their need for long-term and uninterrupted access to mineral resources. Fullagar and Head's discussion of how, in debates about national identity and in legal considerations, the antiquity and continuity of Australian Aboriginal culture is emphasized, and how archaeology faces challenges in identifying ethnicity in pre-contact archaeological records. In particular, they explore the success of archaeology in conjunction with rock-art studies in 'document[ing] details of connection between people and place' (2000:33), evidence which is essential to proving native title.
Following this point, McDonald's paper draws on her studies of regional rock art assemblages, considering how useful rock art studies can be in native title decisions if it can be shown that art functioned at a local level in past societies. McDonald discusses the implications to interpreting cultural continuity following rapid changes in Aboriginal society following European settlement, a point also considered in Harrison's paper when he presents evidence from a Kimberley pastoral station for continuities and transformations in Aboriginal society, technology and economy from the pre­ contact period into the post-European period.
Murray's paper explores significant ethical and professional questions regarding objectivity in archaeological research and the role of archaeological interpretation in accounts of Aboriginal history. He finds the Yorta Yorta judgement indicates that for southeastern Australia in particular , the Native Title Act in its present form is weakened by not taking into account the range of data (oral, archaeological, documentary) demonstrating the diversity of Aboriginal experience following contact. Murray states that 'archaeological practice [should]…produce information which can more readily support arguments of transformation and discontinuity as being central to the experience of Aboriginal people' (2000:76). Veth's paper specifically explores the relevance of archaeology in determining native title. Like Murray, he warns against the use of archaeology as a tool for providing 'a convenient history of seamless linkages into the past' and the production of bounded entities and groups but suggests that the discipline is 'ideally suited to examining issues of both continuity and transition in patterns of occupation, land uses and social organisation' (2000:79).
In Part B, Klinko and Wright examine the role of archaeology in British Columbia, Canada, where recent legal judgements have made archaeological evidence important in negotiations and legal decisions regarding native title, resource use and indigenous rights. Nicholas explores the ways that in Canada indigenous people's involvement is shaping and strengthening archaeology there. Lilley compares how archaeological practice in Canada, South Africa, USA, New Zealand and Australia addresses indigenous cultural heritage. Prins examines how Southern San (South Africa) descendants of Later Stone Age hunter-gatherer communities, who left behind a rich archaeological corpus, have been excluded from archaeological research projects, heritage management and the development of heritage legislation. Rainbird explores colonial-indigenous interactions in Guam, most recently with the Americans, and compares the situation there with Australia, citing the use of archaeological evidence in Chamorro claims to a homeland and also how certain groups view archaeological investigations as desecration. Sand examines how in New Caledonia archaeology plays an important role in contributing to long-term and short-term histories of the archipelago.
This volume reminds us how as contemporary society changes, in some part archaeology changes too, with implications for subject, procedures and theory. The title understates its subject matter as important issues other than native title are raised. These include national identity, academic and political rationales, reconciliation, ethnicity in the archaeological record, and collaboration between archaeologists and communities. Native Title and the Transformation of Archaeology in the Postcolonial World is worth having, as it provides an extremely useful insight into the direction of archaeological practice in Australia. Given the subject matter, the only weakness of this volume is the absence of indigenous perspectives (although it was clearly the aim to have indigenous contributors in the original WAC session).
Analysis of stone artefact assemblages from a recent survey of the Howqua River, Victoria
Justin Shiner
Staff and students from the third year Honours course in archaeology at La Trobe
University recently undertook a survey of a 10 km section of the Howqua River Valley in the central Victoria uplands. The survey identified twelve previously un-recorded surface stone artefact scatters. In addition, detailed artefact recording was conducted at a previously recorded location. Clear spatial patterning in the distribution of artefacts made on different types of raw material was noted.  Greenstone artefacts were concentrated
at two surface scatters located with 500 m of the Howqua Greenstone Quarry 1, while assemblages further away were dominated by chert. Superficially the assemblages located near the quarry appeared to conform to the definition of a reduction site offered by Hiscock and Mitchell (1993), these contained large amounts of debitage (including micro) and many artefacts representative of the early stages of reduction. However, further analysis indicated that both assemblages also contained a range of artefact forms (including retouched items) made on raw materials other than greenstone. Based on this variable assemblage content, the notion of reduction sites as a functional type as defined by Hiscock and Mitchell (1993) was rejected in the Howqua River Valley. In addition, it is argued that spatial differences in artefact discard represent variability  in the span of occupation in different areas of the valley.
An Examination of Indigenous Australian Culturally Modified Trees in South Australia
Greg Carver
BArch(Hons),  Department  of Archaeology, Flinders University, October 2001
This thesis examines Aboriginal culturally modified trees (CMTs) in South Australia with an emphasis on canoe shapes. When many early historical photographs and films depicting Aboriginal people are viewed it is realised how important wooden artefacts were to the Indigenous population of Australia. Unfortunately most of these wooden implements have succumbed to the ravages of time and no longer exist in the archaeological record. What does remain is a variety of CMTs bearing scars from the removal of those artefacts. Distinguishing between a CMT and a natural scar is often fraught with problems making a succinct identification criteria imperative. This thesis presents a identification criteria for use in South Australia to provide the means for positive recognition of CMTs in the field thus assist in the protection and preservation of the surviving trees. A detailed CMT recording procedure is suggested to optimise the amount of information retained for future studies when the trees no longer exists. Specific consideration is given to the variety of CMTs that can be found bearing distinct canoe shapes and an hypothesis presented as to ·why those particular shapes were required.
The Archaeology of Body Modification: Identifying Symbolic Behaviour through Usewear and Residues on Flaked Stone Tools
Alice Gorman
PhD, Division of Archaeology and Palaeoanthropology, School of Human and Environmental Studies, University of New England, October 2000
The origins of modem human behaviour have been construed by some archaeologists as a question of the origins of symbolism. In this thesis I take the position that consciousness is embodied and that body modifications are a key element in generating symbolic behaviour, and I develop criteria by which body modification tools can be recognised archaeologically.
The possibility that body art preceded the first unequivocal archaeological evidence of symbolic behaviour has been long acknowledged but regarded as an intractable problem because of its archaeological invisibility. Archaeological evidence for body modifications shows that they were practiced from the Upper Palaeolithic, but the reliance on preservation of skeletal material and soft tissue, and the difficulty of interpreting ancient art, means that there are limitations to establishing their presence prior to this. The most abundant archaeological remains in the Palaeolithic are stone tools, and I demonstrate that in more recent contexts these are routinely used for head shaving, scarification, and surgery such as finger amputations and genital modifications. The presence of use-wear and human body residues on stone tool edges provides a means of detecting symbolic body practices that is not dependent on stylistic judgements of stone tool form, controversial "non­ utilitarian" art objects, burials or changes in brain structure and size, none of which have satisfactorily proved that symbolic behaviour existed before 60,000 BP.
To test this I analyse a collection of flaked bottle glass razors used for shaving the head from the Andaman Islands. The results of this analysis are compared to a further series of glass and obsidian razors from Antigua, New Guinea, Mexico and Egypt, and experimental obsidian razors. I conclude that the combination of residues such as blood and hair, and wear traces that indicate a scraping/slicing motion, allow razor use to be identified on stone tools. There is' ample archaeological evidence to show that blood residues on stone tools can survive up to 300,000 years, and hair is also extremely well preserved. If body modification tools can be identified prior to 60,000 BP they would provide evidence for the use of complex symbolic constructs and hence an earlier genesis of language than currently accepted.
Roger Bird Obituary
Wal Ambrose
Roger Bird died on 22 November 2001. Although Roger would not claim to be an archaeologist his contribution to the field was generous and significant, especially in untangling the skeins of obsidian distribution in the southwest Pacific. The possibilities of obsidian as an agent for revealing prehistoric distribution networks were shown to some extent through the work of Conrad Key in the 1960s but a quantum leap to almost archaeological revelation status could be accorded to the results that Roger Bird produced from 1974 until the late 1990s. With grants from the Cooperative University Nuclear Physics Research Organisation, the Australian Institute of Nuclear Science and Engineering (AINSE) and in collaboration with officers of the now named CSIRO Australian Nuclear Science and Technology Organisation (ANSTO), thousands of archaeological artefacts were analysed.
Roger Bird was the main initiator for this work within ANSTO through his role as head of the Nuclear Techniques Section. By 1978 his group had undertaken non-destructive analysis of obsidian, pottery, Aboriginal ochres, and autoradiography of a fake painting. The signal undertaking was his guidance in developing automated processing of obsidian artefacts. Through the refinement of Proton Induced X-ray Excitation (PIXE), and Proton Induced Gamma Emission (PlGME) systems, a reliable degree of attribution of artefact to source was achieved, and the large numbers that were analysed provided useful statistics for archaeological collections that could show changing preferences for particular sources over time. The first major report on more than 1000 analyses appeared in 1981 with Roger Bird as senior author on the in­ house publication 'The characterisation of Melanesian obsidian sources using the PIGME technique' (AAEC/510). This included results from over 900 archaeological obsidian flakes.
The early days of this enterprise in the late 1970s often meant all-night vigils over the drifting efficiency of the equipment while mounds of punched paper ribbon rolled out of the teletype printer.  The large stacks of IBM punch cards generated in this operation weighed more than the obsidian being analysed. A 24 hour watch, over two or three days, was needed to accommodate the archaeological needs against queues of other users who were pressing to carry out their research on the 3 MeV accelerator used for the PIXE-PIGME work. In order to recover some of his sleeping hours Roger had fixed a solenoid controlled lever to a phone in the counting room. If for any reason there was an instrument failure the phone would be raised from its cradle; a check-up call from Roger's home would then produce an engaged signal that would have him hurrying back to the lab to rectify the problem on the wayward machine.
By 1981 Roger, as  editor  of Ion  Beam  Analysis  The Proceedings of the 5th International Conference on Ion Beam Analysis, had introduced a chapter on ion beam analysis in archaeology and the environment. Roger's continuing personal commitment to archaeology led to the successful first Australasian Archaeometry Conference at the Australian Museum, Sydney, in February 1982.  His enthusiasm for archaeological applications is clearly seen in his major 160 page 1983 joint review paper, as a single issue of the international journal Nuclear Science Applications, entitled 'Ion beam techniques in archaeology and the arts'. Roger was able to engage others in his group to have a keen interest in the archaeological dimensions of nuclear applications research, to such an extent that at one stage there was discussion of setting up an Archaeometry group within the then Australian Atomic Energy Commission. This initiative faltered for lack of strong archaeological support, much to the disappointment of those involved.
He continued his role as an organiser of archaeological science meetings with the second Australasian Archaeometry Conference at the National Gallery, Canberra, in February 1985. This was the year that the Lapita Homeland Project was launched, with the commitment of Roger's group and AINSE to process large numbers of obsidian artefacts that would inevitably be excavated by the wide ranging field work undertaken in the Bismarck Archipelago. This was a major effort that extended for another decade producing thousands of analyses, and encompassed new work undertaken in the 90s into the more precise definition of obsidian sub-sources in New Britain and other source regions in the Bismarcks. Roger Bird was tireless in calibrating all these data from instruments that were often being tweaked to different tunes by other users of the accelerator. He also engaged himself on holidays in fieldwork in the Northern Rivers of New South Wales and on Easter Island where he and his wife Betty collected obsidians to add to his growing catalogue of Pacific obsidian sources. A final compendium of all this effort has yet to be published but there is a manuscript version that should eventually be generally accessible. Many of the archaeological questions raised by the detailed distributional information have been addressed by individual archaeologists whose obsidians were analysed over the last twenty five years and they will have acknowledged Roger Bird's contribution. To these individual notices of their collaborative work should be added a recognition of his untiring effort to promote the role of his field of nuclear science as a contributor to the fields of archaeology and the arts.
Archaeologists  looking to the past  are prone  to  spot a 'golden age' when developments were rapid and successful outcomes the norm. The directory of Australian archaeometry in the appendix to the first Australasian Archaeometry Conference twenty years ago, seemed to presage a golden age of archaeological science in Australia, with Roger Bird's group being one among others that were working toward a common goal. That promotion seems to have lapsed in recent years but it is clear that Roger's presence as a strong supporter of archaeological science in previous decades has left a lasting imprint on Australian archaeology.
Archaeological assessment in the Rouse Hill urban release area
Robert Staib
Written by a non-archaeologist, this paper describes the management of a program of assessment of Aboriginal archaeological sites undertaken by the Rouse Hill Infrastructure Consortium over the last eight years in conjunction with the New South Wales National Parks and Wildlife Service, Aboriginal groups and consultant archaeologists in the Rouse Hill Development Area in the north west of Sydney. The management of the program is discussed and the issues of liaison with the National Parks and Wildlife Service (NPWS)
and the three Aboriginal groups from the area are described. Details of the cost of the assessment program and the timing of the various activities: surface survey, sub-surface investigations, salvage, analysis and reporting are provided.
A case is made for better strategic planning so that potential archaeological sites can be identified earlier in the planning cycle. This should help those organizations that design infrastructure to avoid potential sites, the consent authority (the NPWS) to make more informed decisions and the Aboriginal groups to have more time to assess the cultural
values of the archaeological sites. Finally the paper describes the considerable archaeological resource that exists as a result of the assessment program in the area. This resource includes 45,000 flaked stone artefacts, dozens of archaeological reports and over one hundred identified sites.
Bone sampling for isotope analysis
Tim Owen
Introduction
Isotope analysis has been frequently used in archaeology as a means for inferring human and faunal palaeodiet and climatic change through time (Ayliffe and Chivas 1990; Pate 2000). Isotope analysis uses a variety of extraction techniques to isolate bone collagen, hydroxyapatite or holesterol that can then be analysed through GC (gas chromatography), GC/MS (gas chromatography/mass spectrometry), IRM-GC/MS (isotope ratio monitoring-gas chromatography/mass spectrometry) or similar techniques. Although much credence has been given to isolating the different portions of bone and problems associated with diagenesis (Klinken 1999), little information is available on actual bone sampling techniques. Past work on sample preparation has focused on sampling shell (Shackleton 1973), lipid and cholesterol extraction (Evershed et al. 1995; Stott and Evershed 1996), the effects of burial on bone (Nicholson 1998) and preparation of bone for sampling (Ambrose 1990). Minimal study has been conducted regarding the acquisition of samples prior to analysis.